This is an archived article and the information in the article may be outdated. Please look at the time stamp on the story to see when it was last updated.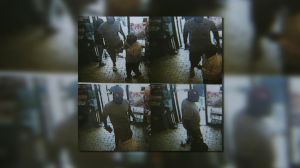 FERGUSON, Missouri (CNN) –
Police named the officer involved in the shooting of Ferguson teenager Michael Brown on Friday, then released documents containing a bombshell: The 18-year-old was the "primary suspect" in the robbery of a convenience store moments before he was killed.
Officer Darren Wilson, a six-year veteran of the department, was responding to that call when he encountered Brown, police Chief Thomas Jackson told reporters.
According to the documents, Brown roughly handled a clerk trying to stop him before walking out of the store with a box of Swisher Sweets cigars.
The unidentified police officer who wrote the incident report on the robbery said he identified Brown by comparing surveillance images of the incident to the body of the slain teen.
The claim immediately met with skepticism among some in the community, who have accused Ferguson police of attempting a cover-up to protect the officer.
One resident interviewed by CNN said police are "tarnishing this young man's name."
"Anyone could walk in the store and they could get surveillance and take a picture," the woman said. "I don't see that he's robbing the store. I just see a picture of a young man."
On Twitter, community members and activists expressed disappointment and outrage.
"How can they not release info on the shooting but link #MikeBrown to robbery. Shame on them," @NafisMWhite tweeted.
Another said that Brown being a suspect should not have led to the use of deadly force.
"When police approached Mike Brown, he was still a suspect, he wasn't guilty of anything, so it shouldn't have come to a shooting," one man told CNN's Dom Lemon on Thursday.
The release of Wilson's name satisfied a key demand of protesters and critics of the handling of the case by the suburban St. Louis police department and St. Louis County investigators handling the probe.
But, especially in light of the robbery allegations, the release of Wilson's name is unlikely to quell protests in the city and elsewhere over the death of an unarmed African-American man at the hands of a police officer.
Missouri State Highway Patrol Capt. Ron Johnson, who took over protest security at Gov. Jay Nixon's direction after days of sometimes violent clashes between police and protesters, said he expected calm to prevail when protesters begin to filter back into the city Friday night.
"In our anger, we need to make sure we don't burn down our own house," he said.
A key complaint of protesters has been that witnesses say the officer shot Brown as he stood with his hands in the air.
Police have said the shooting occurred during a struggle for the officer's gun.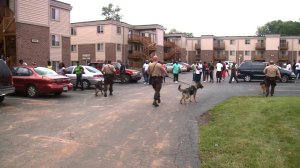 Nixon applauded the release of the new details.
"I'm pleased that the people of Ferguson and the region began to get some long-overdue information today, and I will continue to call for openness and transparency as the parallel investigations into this tragedy proceed to their necessary conclusions," he said in a statement.
"For the sake of the family, the citizens of Ferguson and the entire region, it is vital that the investigations into the shooting death of Michael Brown move forward in a thorough, open and transparent manner to ensure that trust is restored and justice is done," he said.
Fatal moments
According to a timeline offered by Jackson, Wilson encountered Brown 10 minutes after the report of a robbery at a nearby convenience store.
According to police documents, video surveillance images from the store show a man said to be Brown manhandling a store employee, towering over him and "appearing to intimidate him" before walking out with the box of cigars.
Neither Jackson nor the documents elaborated on what happened when Wilson and Brown met up on the street.
Police have previously said that Brown and the officer wrestled while the officer was still in his cruiser, and that Brown was trying to get the officer's weapon.
Witnesses have told CNN that the two did tussle at the cruiser window, but it didn't look like Brown was trying to get at the officer.
"It looked as if Michael was pushing off and the cop was trying to pull him in," Tiffany Mitchell told CNN on Wednesday night.
Neither Mitchell nor co-worker Piaget Crenshaw say they saw Brown enter the vehicle.
Instead, a shot went off, then the teen broke free, and the officer got out of the vehicle in pursuit, the women said.
"I saw the police chase him … down the street and shoot him down," Crenshaw said. Brown ran about 20 feet.
Questions remain
Not everyone accepted claims of Brown's involvement in a robbery, and some took to social media to question details of the evidence presented by police.
Pointing to images posted online of Brown's body lying in the street, some people said that the body didn't appear to be as heavyset as the man in the surveillance video and that he seemed to be dressed differently, too.
Twitter user @ART_TheGOD wrote, "so #MikeBrown's hat disappeared and he changed into shoes huh.?"
Nixon, addressing reporters, said "New facts are out … but those are not the full picture."
"I think the focal point here remains to figure out how and why Michael Brown was killed and to get justice as appropriate in that situation," he said.
A new tone
Protests over Brown's killing were peaceful Thursday night after several days of tense encounters between protesters and police.
On Wednesday, police, backed by armored personnel carriers, fired tear gas and rubber bullets at protesters in a widely criticized effort at crowd control.
"Last night was a great night, a great night," Johnson said Friday. There were no arrests, he said.
He promised to do his part to keep the calm, using his now signature smile and hugs for protesters.
Nixon and President Barack Obama have called for peace from all sides and respect for the rights of protesters and the press. Police briefly detained two reporters Wednesday and Al Jazeera America said police fired tear gas and rubber bullets at their camera position.
"There is never an excuse for violence against police or for those who would use this tragedy as a cover for vandalism or looting," Obama said Thursday. "There is also no excuse for police to use excessive force against peaceful protests or to throw protesters in jail for lawfully exercising their First Amendment rights."
Hundreds gathered Thursday in Los Angeles and New York to demand justice for Brown.
The Los Angeles protests included commemoration for Ezell Ford, an African-American youth recently killed there. In New York, police formed a line to halt the march, CNN affiliate WABC reported.
They told the crowd to disperse and arrested a few people.
CNN's Michael Pearson reported and wrote from Atlanta, and Ana Cabrera reported from Ferguson. CNN's Ben Brumfield, Don Lemon, Catherine E. Shoichet and Dorrine Mendoza contributed to this report.
The-CNN-Wire
™ & © 2014 Cable News Network, Inc., a Time Warner Company. All rights reserved