This is an archived article and the information in the article may be outdated. Please look at the time stamp on the story to see when it was last updated.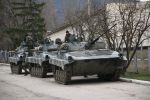 SIMFEROPOL, Ukraine (CNN) –
U.S. Secretary of State John Kerry accused Russia of making up reasons to intervene in Ukraine, saying Tuesday that "not a single piece of credible evidence" supports Russian explanations for its move into Crimea.
"Russia has talked about Russian-speaking citizens being under siege. They're not," he said while on a visit to Kiev.
His remarks came hours after a casually defiant Vladimir Putin denied having designs on seizing the Crimean peninsula while defending his country's right to intervene to protect ethnic Russians and others he said were under threat.
"I'm not worried that a war will start because we're not going to go to war with Ukraine," he said. "I want you to understand clearly: If we do this, it will only be to protect local people."
On the ground, the Russian siege of Ukrainian military facilities continued.
Although Putin ordered about 150,000 Russian troops who had been taking part in military exercises near the Ukrainian border back to their barracks, that order didn't involve troops already in Crimea.
Ukraine's new interim authorities were far from reassured, saying Russian troops and vehicles remained near the country's eastern border.
Andriy Parubiy, head of Ukraine's National Security and Defense Council, told Parliament that Ukraine has doubled its security presence at checkpoints along its border with Russia.
At one base in Crimea, crews installed barricades blocking Ukrainian forces in. They said they were sent by the new pro-Russian regional government.
In one dramatic incident, Ukrainian troops approached Russian positions to talk but were met with warning shots fired into the air and orders to turn back.
Still, no blood had been spilled.
In an apparent show of force and unity, Ukraine's naval flagship steamed through the Bosphorus Strait in Turkey on Tuesday on its way back to Ukraine from an anti-piracy mission off the coast of Africa, CNN's Ivan Watson reported from a boat in the narrow channel. At one point, a crowd of supporters waving Ukrainian flags gathered on the shore to cheer the frigate on.
Russian state media had claimed that the ship had defected, along with thousands of other troops from military units in Crimea. CNN crews in Crimea saw no sign of such defections, and the Ukrainian government denied that they had occurred. The frigate was clearly flying the Ukrainian flag.
Diplomatic efforts to end the crisis bore little fruit Tuesday.
Russia declined an invitation to meet with Ukrainian officials Wednesday in Paris, but Ukraine's interim prime minister said cabinet ministers from both governments have been involved in consultations, albeit "slow-moving" ones.
NATO said its members would meet Wednesday with the Russian ambassador to the alliance, which gathered in emergency session Wednesday to talk about Poland's fears that any potential conflict could spread.
NATO Secretary General Anders Fogh Rasmussen said Tuesday that despite repeated calls by the international community, "Russia continues to violate Ukraine's sovereignty and territorial integrity and continues to violate its international commitments."
There's no talk of a military response, but Western diplomats liberally threatened Russia with isolation and sanctions if it refuses to pull its troops back.
"I think everybody recognizes that although Russia has legitimate interests in what happens in a neighboring state, that does not give it the right to use force as a means to exerting influence inside of that state," President Barack Obama said.
Western powers also raced to prop up Ukraine's shaky economy. Kerry announced a $1 billion loan guarantee for Ukraine, and representatives of the International Monetary Fund were headed to the country to begin inspections ahead of a possible financial deal.
The Ukrainian Parliament also ratified an agreement Tuesday to receive loans from the European Union worth 610 million euros, the equivalent of nearly $839 million.
By Laura Smith-Spark. Diana Magnay and Phil Black; Diana Magnay reported from Simferopol and Phil Black from Moscow, while Laura Smith-Spark wrote and reported in London. CNN's Matthew Chance and Elise Labott and journalist Azad Safarov in Kiev contributed to this report. CNN's Ivan Watson, Gul Tuysuz and Susannah Palk also contributed.
The-CNN-Wire
™ & © 2014 Cable News Network, Inc., a Time Warner Company. All rights reserved