This is an archived article and the information in the article may be outdated. Please look at the time stamp on the story to see when it was last updated.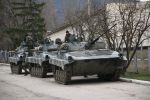 (CNN)-
Things are moving very fast in Ukraine. Here are Wednesday's latest developments:
NATO assessing Russia
NATO announced it has suspended the planning of its first joint mission with Russia involving the maritime escort for a U.S. vessel, part of the effort to destroy Syria's chemical weapons, NATO Secretary General Anders Fogh Rasmussen said Wednesday.
Rasmussen also said the world body has put "the entire range of NATO-Russia cooperation under review."
U.S. officials on status of Russian forces
U.S. officials said Russian forces that ended a big military exercise on their side of the border to a large extent remain in the field Wednesday — and are not back in their barracks in large numbers, CNN's Barbara Starr reports. For the second day in a row, the United State hasn't seen any major strategic movements by Russian forces on either side of the border — in Russia or Crimea, officials said.
Who's with who?
A senior U.S. State Department official said U.S. Secretary of State John Kerry is meeting now with European colleagues at the French Foreign Ministry in Paris. Russian Foreign Minister Sergey Lavrov has arrived, but he is not meeting with them at the moment, the official said.
The Russian and Ukrainian foreign ministers are in the ministry building, but it's not clear whether a meeting will take place, CNN's Elise Labott reports.
Joint Chiefs chairman: No evidence yet Crimea troops are Russian soldiers
"We don't have any evidence as yet. I think evidence could likely become available over time," said U.S. Gen. Martin Dempsey, chairman of the Joint Chiefs of Staff.
Update on U.N. envoy
Robert Serry, the U.N. envoy to Ukraine whom armed men threatened Wednesday in Crimea — is taking a late flight out of Simferopol, Ukraine, the capital of Crimea, according to a U.N. statement. Serry will shortly return to Kiev to continue his mission, it said.
Congress urges for sanctions against Russia
A U.S. House Foreign Affairs Committee resolution to be voted on as early as Thursday urges the Obama administration to work with "our European allies and other countries" to "impose visa, financial, trade, and other sanctions on senior Russian officials, majority state-owned banks and commercial organizations, and other state agencies, as appropriate."
Who would suffer from Russian sanctions?
The answer is Europe, according to CNN Money. Russia is threatening to retaliate with measures of its own against any steps the United States and its European allies might take to impose sanctions over the crisis in Ukraine. If that came to pass — an outcome that remains far from certain — Western companies and investors could end up in the firing line. Europe would stand to suffer most. Russia is the European Union's third-biggest trading partner after the United States and China, with goods and services worth more than $500 billion exchanged in 2012.
This summary was compiled by CNN's Samira Jafari from reporting from CNN teams in Atlanta, London, Washington, Kiev, Ukraine, and Crimea.
The-CNN-Wire
™ & © 2014 Cable News Network, Inc., a Time Warner Company. All rights reserved