This is an archived article and the information in the article may be outdated. Please look at the time stamp on the story to see when it was last updated.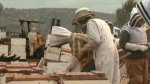 MADRAS, Oregon-
Highway 97 near Madras, Ore. is finally clear after crews wrapped up getting 500 million bees off the road Thursday.
The bees, in 200 hives, were spilled after the truck carrying them rolled after swerving to keep from hitting an animal, KGW News in Portland reported. The driver was uninjured.
People from the Central Oregon Beekeepers Association, in protective gear, helped collect the bees.
The bees have since been sent to their original destination.