This is an archived article and the information in the article may be outdated. Please look at the time stamp on the story to see when it was last updated.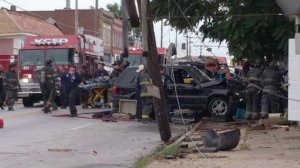 KANSAS CITY, Missouri (CNN)-
Three children and one adult were injured Tuesday afternoon when at least one vehicle went into a day care center in Kansas City, Missouri, a city spokesman said.
The crash happened at Christian Academy Child Care, Kansas City police Sgt. Marisa Barnes said.
The severity of the injuries weren't immediately known. The children were taken to Children's Mercy Hospital, city communications director Danny Rotert said.
Aerial video from CNN affiliate KMBC showed a damaged vehicle just outside the front of the building, along with a huge hole and debris scattered outside.
Part of the vehicle's front was crumpled. A number of emergency workers were outside the structure.
Police got the call about the crash at 12:56 p.m. (1:56 p.m. ET), she said.
The-CNN-Wire
™ & © 2013 Cable News Network, Inc., a Time Warner Company. All rights reserved.