This is an archived article and the information in the article may be outdated. Please look at the time stamp on the story to see when it was last updated.
PHOENIX, Arizona (KPHO) –
A Scottsdale teenager had little wiggle room after he became trapped in his chimney while trying to enter his locked home Tuesday night.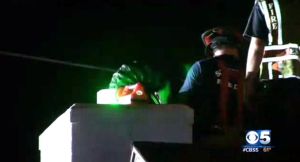 First responders from the Scottsdale, Phoenix, and Tempe fire departments immediately went to work to reach the teen at the single-story home near Oak and 81st Way.
"It was about this wide, up top, where he went in. So he just literally went down, hanging onto that rope. he got down to that area and realized he couldn't go out. He just sat there and called 911," Captain Dave Folio with Scottsdale Fire Department said.
Scottsdale Battalion Chief Brian Read said they managed to pull the boy to safety from inside the home.