This is an archived article and the information in the article may be outdated. Please look at the time stamp on the story to see when it was last updated.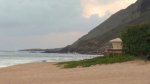 WOODLAND-
A sad day for our country and our community as the search is called off for a military hero, Matthew John Leathers.
The Coast Guard, Navy and Marine Corps groups, along with firefighters, searched 24,000-square miles but found nothing.
Leathers was off the coast of Oahu's Kaena Point, performing an open ocean swim with 10 other sailors when he got separated from the group and their inflatable boats.
He was with the Navy since 1998 but had been station in Hawaii with the SEAL Team One since 2004. He spent most of his time when deployed on submarines conducting naval special warfare missions.
Leathers was highly decorated,receiving several awards such as the National Defense Service Medal and the Sea Service Deployment Ribbon.
Leathers graduated from Woodland High School in 1998.