This is an archived article and the information in the article may be outdated. Please look at the time stamp on the story to see when it was last updated.
STOCKTON-
When a 2-year-old baby girl fell from a third-story window just after 11 p.m. Sunday, mothers who live next door at the Knights Inn motel in Stockton were shocked.
"I couldn't believe it" neighbor Barbara Holmes said.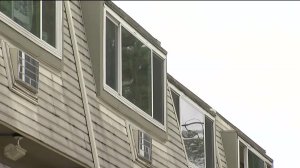 If the sight of a crying baby who just survived a more than 20-foot fall wasn't shocking enough, the mothers who live next door say it's what happened next that lead them right to their phones to call police.
"I heard running bath water. She brought the baby up for a bath. That is when I knew to call 911." Amanda Gaines, another mom who lives in the motel next door, told FOX40.
Police say 29-year-old Deonna Wooldridge took the baby and ran back up to her room on the third floor.
"It was as if nothing happened" Gaines said.
Police showed up and arrested Wooldridge on child endangerment charges Sunday night.
Investigators expect the baby to make a full recovery. When she does, stockton police tell FOX40 she will be taken in to child protective custody