This is an archived article and the information in the article may be outdated. Please look at the time stamp on the story to see when it was last updated.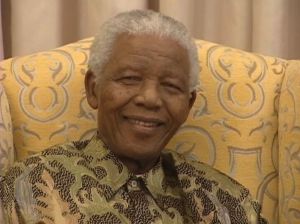 SOUTH AFRICA (CNN)-
Nelson Mandela, the revered statesman who emerged from prison after 27 years to lead South Africa out of decades of apartheid, has died, South African President Jacob Zuma announced late Thursday. He was 95.
"He is now resting. He is now at peace," South African President Jacob Zuma said late Thursday, after announcing the death of Nelson Mandela. "Our nation has lost its greatest son. Our people have lost a father."
He went on to say, "What made Nelson Mandela great was precisely what made him human. We saw in him what we seek in ourselves."
Mandela will have a state funeral, Zuma said late Thursday. He ordered all flags in the nation to be at half-staff from Friday through that funeral.
The-CNN-Wire
™ & © 2013 Cable News Network, Inc., a Time Warner Company. All rights reserved.
Related Stories:
Nelson Mandela Released from the Hospital
Obama Meets with Mandela's Family in South Africa
Ailing Nelson Mandela on Life Support