This is an archived article and the information in the article may be outdated. Please look at the time stamp on the story to see when it was last updated.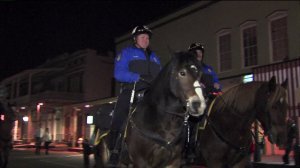 SACRAMENTO—
Authorities throughout Sacramento and Sacramento County were kept busy New Year's night, at least according to preliminary crime stats.
Doug Morse with the Sacramento Police Department tells FOX40 that there were 5 alcohol-related arrests, along with 2 felony warrant arrests. Further, one person was arrested for stealing from a store, and two more were arrested for negligent discharge of a firearm.
Sacramento County saw more incidents. A list of the preliminary reports, according to numbers given by Sacrament County Sheriff Spokesperson Lisa Bowman, is below:
-3 non-life-threatening shootings.
-2 non-life-threatening stabbings.
-3 assaults with a deadly weapon (one being an attack with a bottle, a pistol whipping attack, and one vehicle as a weapon attack).
-1 gunshot into a home. No one was injured.
-2 gunshots into a car. No one was injured.
Further, there were 38 calls fielded by dispatchers about gunshots being heard. There were also 24 response calls to fireworks. Bowman notes that many of the reports about gunshots were found to be fireworks, and vice versa.