This is an archived article and the information in the article may be outdated. Please look at the time stamp on the story to see when it was last updated.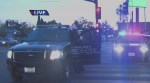 YUBA CITY –
One person died after an officer-involved shooting in Yuba City early Wednesday morning.
Authorities say that shots were fired and that the suspect is dead.
The shooting happened on Plumas Street near A street after a person led police on a chase around 2 a.m.
Police saw a car matching the description of one used in two armed robberies in the area over the past two days, starting the chase.
More information to come. Stick with FOX40 for any updates.