This is an archived article and the information in the article may be outdated. Please look at the time stamp on the story to see when it was last updated.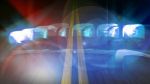 YOLO COUNTY-
An overturned asphalt truck has blocked lanes on State Route 16 near Rumsey, the CHP said Monday afternoon.
No one was hurt in the crash, but officers say lanes may be blocked for some time.
A little after 4 p.m., the roadway was reopened. Authorities had to wait on a proper tow truck to arrive.