This is an archived article and the information in the article may be outdated. Please look at the time stamp on the story to see when it was last updated.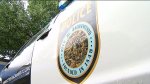 NATOMAS-
Elementary school parents were alerted after a student was approached by two people after school.
The student was walking home from Natomas Park Elementary School when a car approached. A woman inside reportedly offered the student candy.
The student didn't talk to them, and immediately headed home, away from the car. The Natomas Unified School District sent an alert to parents after they learned about the incident.
Sacramento Police say the car was a turquoise blue sedan. They have not released a detailed description of the people inside at this time.