This is an archived article and the information in the article may be outdated. Please look at the time stamp on the story to see when it was last updated.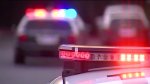 STOCKTON-
A pastor in his 60s tackled a burglar to the ground as he allegedly tried to break in to the church.
Pastor Steve Kihlthau, of Stockton Baptist Church along Highway 99, decided to camp out after the church was burglarized multiple times in the last week.
While at the church Sunday night, Kihlthau caught a man leaving the church carrying a duffle bag. He wrestled him to the ground and held him until San Joaquin County Sheriffs deputies arrived.
His family tells FOX40 that Kihlthau is sore and beat up, but otherwise ok after the incident.
The man arrested is identified as Dwayne Hickingbottom. He was booked into jail for burglary, possession of burglary tools, battery and vandalism.
FOX40 will have Kihlthau's story, in his own words, on FOX40 News Monday night at 6 p.m.