This is an archived article and the information in the article may be outdated. Please look at the time stamp on the story to see when it was last updated.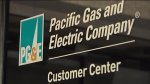 SAN JOAQUIN COUNTY-
Pacific Gas & Electric reported four massive power outages in San Joaquin County and the foothills Tuesday, affecting tens of thousands of customers.
PG&E says it is investigating the cause or causes for the outages, and does not have an estimated time for restoration.
The biggest outage hit Stockton, knocking out power for more than 54,000 customers.
PG&E spokesperson Nicole Liebelt told FOX40 Tuesday afternoon that at the height of the outages, 98,000 customers were without power.
Visit PG&E's outage map for more information.