This is an archived article and the information in the article may be outdated. Please look at the time stamp on the story to see when it was last updated.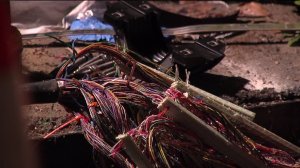 OAKDALE-
When you think of hospital communications you may think of a big switchboard with all the lines lit up; that's what would normally be happening at Oak Valley Hospital.
Instead, they're down to working with a cell phone thanks to vandals.
There's an intricate surgery underway tied to Oak Valley Hospital but it's not the kind of operation you might suspect.
It's all to revive the hospital's main phone lines – vital arteries severed by vandals.
"We tried to get right on top of it with our patients, to notify the physicians, to notify the families that they were safe and being taken care of," said Joann Saporito, vice president of nursing.
Hospital staff worked double-time to get a substitute hospital number publicized and ringing to a series of cell phones after the problem was discovered Thursday afternoon.
Internal calling was never disturbed by the destruction of two of AT&T's junction boxes serving the hospital. Calls in and out were.
The trouble added unneeded anxiety as Darla Reeves and her sister tried to get their dad help for complications from a broken hip.
"There was no way for her to get through except for texting us. So really, she couldn't help make any decisions to help get him into the emergency room for tests," said Reeves.
Police have told hospital staff that extra stress for families was all because someone tore the boxes apart for the copper wire inside.
Their antics hung-up phone service on an entire city block, but the potential impact at the hospital is just too much for Darla Reeves.
"I've had it done at a house that I purchased, but at a hospital? There's so many sick people here. It's just the dumbest thing you could do. It's just wrong," said Reeves.
Thanks to a plan to work through the night, AT&T crews say the phone lines to the 35-bed facility should be restored by Saturday morning.
Until then you can call (209) 602-2578 for any hospital need.
No arrests have been made in the copper theft.