This is an archived article and the information in the article may be outdated. Please look at the time stamp on the story to see when it was last updated.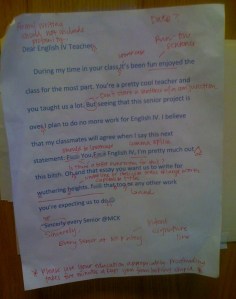 A nasty note, including name-calling and sarcasm, is nothing new for high school teachers; but how many take the time to respond, and grade the note?
A typed letter, taped to an English teacher's door, has gone viral because of how the unnamed teacher responded. The post on Reddit has received more than 2,000 comments.
The letter is difficult to read, because of the numerous spelling and grammatical errors. So the teacher corrected them, and then included a smack down of their own.
"Please use your education appropriately. Proofreading takes five minutes & keeps you from looking stupid."
Click on the image of the letter to see a larger version.
In Case You Missed It:
VIDEO: "Listen, Listen, Listen, Linda. Honey" Toddler Argues with Mom
READ: Fugitive Tweets "Catch me if you can" – Then Gets Caught
PHOTOS: Woman Crochets Cozies for Tortoises, Snails