This is an archived article and the information in the article may be outdated. Please look at the time stamp on the story to see when it was last updated.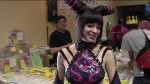 SACRAMENTO–
Anime, comic book, video game and cosplay lovers were out in force this Labor Day Weekend, coming out for the Sac Anime fest.
The event has gotten so big that organizers say they will be moving to the Sacramento Convention Center next year.
Organizers say that over 7,700 people attended, a new record for the event.
This slideshow requires JavaScript.