This is an archived article and the information in the article may be outdated. Please look at the time stamp on the story to see when it was last updated.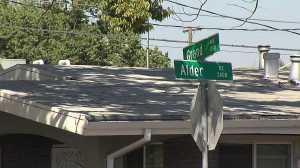 SACRAMENTO- A domestic disturbance ended with gunshots along the 1200 block of Grand Avenue Monday morning. It was just before 7 AM when officers arrived on scene and discovered that the man involved in the dispute had left. The woman involved gave police permission to check out the rest of the house.
"When she opened the door, that's when the dogs came charging… Barking, aggressive," said Michele Gigante with the Sacramento Police Department.
One of the dogs, a large pit bull, came at one of the officers.
"The officer got backed into an area," Gigante said. "That's when the officer shot the dog."
Pit bull attacks aren't an uncommon occurrence, but veterinarian Jyl Rubin is quick to defend the breed. She says it's the dog's training that dictates its behavior in cases like this, not necessarily its pedigree.
"It doesn't matter what breed it is, as long as it is trained properly," Rubin said. "They're very smart and they're very loyal, but they will protect their territory."
Gigante went on to explain that this pit bull was not responsive to its owner's commands. "They're protective, as they should be," she said, "but in this case the woman was not able to call the dogs off."
The dog was taken by animal control and is expected to survive.