This is an archived article and the information in the article may be outdated. Please look at the time stamp on the story to see when it was last updated.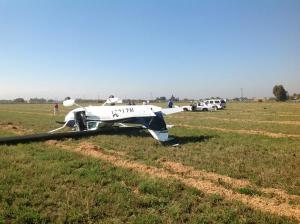 PATTERSON-
A small plane landed upside down in an alfalfa field Tuesday morning, both the pilot and passenger appear to be ok.
Stanislaus County Sheriff's Deputies and medical crews arrived at the field outside of Patterson, but found the female pilot and her male passenger already out of the plane and walking around.
The pilot said they were taking pictures of some land when they lost control. While landing in the field, the front tire hit a hole and flipped the plane.
The Federal Aviation Administration and National Transportation Safety Board will both conduct investigations into the accident.