This is an archived article and the information in the article may be outdated. Please look at the time stamp on the story to see when it was last updated.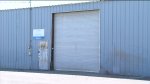 CERES-
Ceres Police announced Tuesday that they have arrested a man after a frozen body was found in the freezer of an abandoned auto body shop.
Twenty-six-year-old Jacob Cervantes was arrested on homicide charges. Cervantes was the owner of The Shop Customs, the auto body where the frozen body was found. He was booked at the Stanislaus County Jail.
WATCH: Frozen Body Found in Abandoned Auto Shop
Ceres Police said they did not have the victim's name and it could take a few days to identify it. They said the body was found intact and it was unclear how long it had been in the freezer for.
The body was first discovered by a tow truck driver, hired to take cars away from the abandoned East Whitmore Avenue business.
The man found inside the freezer has not yet been identified.