This is an archived article and the information in the article may be outdated. Please look at the time stamp on the story to see when it was last updated.
STOCKTON-
Stockton Police Chief Eric Jones said Monday that Misty Holt-Singh, who was taken hostage in a bank robbery July 16, was killed by gunfire from officers.
Investigators believe Holt-Singh was used as a human shield during a shootout between three gang members and police officers after a chase.
"We never had the opportunity to negotiate with the suspects," Jones said, adding that Holt-Singh's death was "very unfortunate."
Jones says he has been in contact with her family.
Three women were taken hostage during an armed bank robbery at a now-closed Bank of the West branch. Two of the hostages survived after investigators say they were either pushed or thrown from the suspects' vehicle.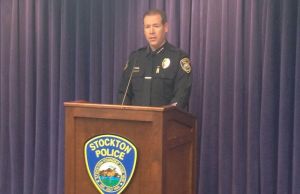 READ MORE: Family of Slain Hostage Express Grief, Ask for Police Recordings
During the shootout after the chase, suspects Alex Martinez and Gilbert Renteria were killed along with Holt-Singh.
Jones said Holt-Singh's death shows the "cowardice" of the sole surviving suspect, Jaime Ramos.
Holt-Singh was struck 10 times by gunfire, Jones said. Each bullet was police-issue.
Police are currently looking for a fourth suspect, believed to have dropped off the other three at the bank.