This is an archived article and the information in the article may be outdated. Please look at the time stamp on the story to see when it was last updated.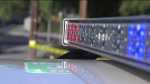 SONORA-
Sonora Police say two people were having sex in a car, in plain sight of others, Tuesday afternoon after ordering chicken from a BBQ restaurant.
Officers cited 72-year-old Linda Titus and 62-year-old Garry Wells for indecent exposure before releasing them.
An employee of Doc's Texas BBQ & Burgers told FOX40 that Titus and Wells showed up in separate cars. They ordered chicken and then got busy in a car in the parking lot, in full view of Doc's customers walking by.