This is an archived article and the information in the article may be outdated. Please look at the time stamp on the story to see when it was last updated.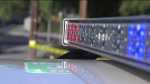 MODESTO-
Police in Modesto are investigating a shooting after the victim drove himself to the hospital Tuesday afternoon.
Police say the man's car also had bullet holes.
The shooting happened shortly after 1:30 p.m. on Oak Street near South Jefferson Street. The victim showed up at the hospital at about 2:07 p.m., officers say.
The man's condition is not immediately known Friday afternoon as officers continue to investigate.