This is an archived article and the information in the article may be outdated. Please look at the time stamp on the story to see when it was last updated.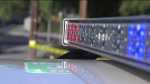 SACRAMENTO-
Sacramento Police say they GPS attached to a bait bike was disabled, making it hard for officers to track down the person that took it.
"[The GPS] is an electronic device but, as you know, it's an electronic device and it can fail," Officer Doug Morse said Thursday.
Officers have yet to find that particular bike, but say other bait bikes are in rotation.
The bait bike program is designed to discourage crimes of opportunity.