This is an archived article and the information in the article may be outdated. Please look at the time stamp on the story to see when it was last updated.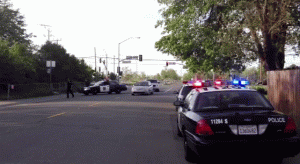 SACRAMENTO –
A man ran through a South Sacramento neighborhood after he and his friends were pulled over for a traffic violation.
According to Sacramento Police, around 5:30 p.m. officers tried to stop a car near Meadowview Road and 29th Street when one of the three passengers took off running.
Police found a gun nearby that they believe the suspect dumped. A perimeter has been set up and cops are searching the area by air and K-9 units. The two other passengers have been detained.