This is an archived article and the information in the article may be outdated. Please look at the time stamp on the story to see when it was last updated.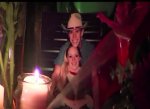 SACRAMENTO-
Sacramento Police released possible descriptions Wednesday of the three men that beat 28-year-old Josiah Humphreys to death March 17.
Humphreys was found near 18th and P Streets in midtown, badly hurt. He was taken to the hospital, where he died from his injuries.
Detectives say he was attacked by three men, each light-skinned Black, Hispanic or Asian. One was wearing a dark-colored New York Yankees jacket and weighed about 180 to 195 pounds. Another was thin, had short, dark, spiky hair and a white t-shirt. The third was also wearing a white t-shirt.
Each man is said to be between 25 and 30 years old.
Humphreys' friends, family and community have offered up a $15,000 reward for information that leads to the attackers' arrests.