This is an archived article and the information in the article may be outdated. Please look at the time stamp on the story to see when it was last updated.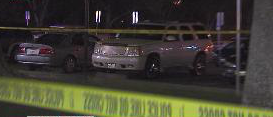 SACRAMENTO –
Sacramento Police are searching for the suspect involved in a shooting that injured two people at Cal Expo Saturday.
Investigators say the suspect opened fire in the parking lot just before 10 p.m., hitting two people and two empty cars.
The victims were attending the Naughty Gras party hosted by a local radio station. Both suffered non-life threatening injuries to the lower body. They were transported to an area hospital.
No word on what prompted the shooting. Anyone with information is urged to notify Sacramento Police.
Ben Herrera filed this report.