This is an archived article and the information in the article may be outdated. Please look at the time stamp on the story to see when it was last updated.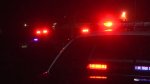 YOLO COUNTY-
Authorities say a small plane went down Wednesday evening in a field in Dunnigan.
At 7:20 p.m., Yolo County dispatch got a call from Travis Air Force Base.
Search crews were confused about where the plane went down between Woodland and Davis because the aviation coordinates were off. The plane was found after about an hour-long search.
Two people were on board the plane, but neither were seriously hurt. 
Weather was said to play a factor in the hard landing. The pilot at one point hit mud and spun out of control.