This is an archived article and the information in the article may be outdated. Please look at the time stamp on the story to see when it was last updated.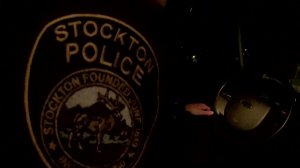 Police in Stockton say that a burglary suspect didn't want to be taken down easily Sunday morning.
According to a release from Stockton Police, officers were called to a home near E. Worth Street and Bieghle Alley around 8:30 a.m. after a reported break-in and assault.
Dispatchers were told that the suspect, 25-year-old Jose Diaz, had attacked one of his relatives.
At the scene, officer confronted Diaz and tried to take him into custody. However, Diaz allegedly fought the arresting officers – grabbing at one of the officer's weapon holster.
Officers were eventually able to get Diaz under control after they used a baton on him.
Diaz now faces burglary and resisting arrest charges.