This is an archived article and the information in the article may be outdated. Please look at the time stamp on the story to see when it was last updated.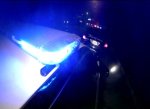 STOCKTON-
Police in Stockton say a 16-year-old boy held onto a car as it tried to get away after his cell phone was stolen Monday night.
The teen was walking home near Main and Alma Streets when a car pulled up next to him, police said in their activity log.
Officers say someone got out of the car and grabbed the boy's cell phone. The man got back into the car and tried to get away, but investigators say the teen held onto the car and ran alongside until his feet hurt. He let go at Filbert Street.
Police describe the men in the car as in their 30s.