This is an archived article and the information in the article may be outdated. Please look at the time stamp on the story to see when it was last updated.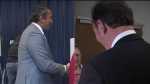 With 57.2% of precincts reporting, Ami Bera has taken a very narrow lead over incumbent Dan Lungren, although they are basically tied at 50%.
Bera has 40,627 votes, while Lungren has 40,557.
FOX40 will continue to cover this race closely. Stay tuned to FOX40 and FOX40.com.