This is an archived article and the information in the article may be outdated. Please look at the time stamp on the story to see when it was last updated.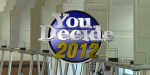 DEL PASO HEIGHTS-
A gas leak at Jefferson Elementary School has prompted polling place workers to briefly set up outside.
Jefferson was evacuated for about an hour while crews repaired the leak.
As long as the sun was up, voters could cast their ballots outside.
After the sun set, a neighbor let workers into his garage to set up a makeshift polling place.
The leak was repaired after about an hour.