This is an archived article and the information in the article may be outdated. Please look at the time stamp on the story to see when it was last updated.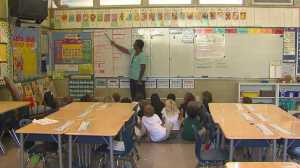 SACRAMENTO-
If you talk with the "Yes on 38" campaign, they will tell you that your tax dollars will go towards educating children not towards Sacramento, but critics argue that Californians are already taxed enough.
By voting for Proposition 38, you're saying "yes" to a state income tax that funds California's school.
"Parents and teachers will have the ability to make decisions about how that money's spent," said Andrew Acosta, spokesman for the "Yes on 38" campaign. "The money will be audited. The money has to go to educational purposes."
Even critics say Proposition 38 will truly send money back to the classroom, but critics also feel that Californians are taxed enough.
"It's a significant increase in the income tax. California income tax is already screwed up, to put it politely," said John Coupal with the Howard Jarvis Taxpayers Association.
It's an increase for not only the rich and the middle class, but Californians making as little at $17,346.
"People who make more, pay more. But everyone's invested in the schools," said Acosta.
According to election officials, with Proposition 30 and Proposition 38 both on the ballot, the one that gets the most votes takes precedent. However, both can fail if they don't get enough votes.