[protected-iframe id="5a815270d39f12979d20bb707a383e5b-37181424-38984072″ info="https://w3.cdn.anvato.net/player/prod/v3/anvload.html?key=eyJtIjoiTElOIiwidiI6ImFkc3R5OERMZW52YWVrUTEiLCJhbnZhY2siOiJYRWFZb3k4OHp2bGVrdTZSV0xGN0ZqcGE5RHlqOEJQTiIsInNoYXJlTGluayI6Imh0dHBzOi8vdzMuY2RuLmFudmF0by5uZXQvcGxheWVyL3Byb2QvdjMvYW52bG9hZC5odG1sP2tleT1leUp0SWpvaVRFbE9JaXdpZGlJNkltRmtjM1I1T0VSTVpXNTJZV1ZyVVRFaUxDSjBiMnRsYmlJNklqRmxhSFpMWkV0V2QySnplVGs1ZW5nd1Z6azBjSFkwWlVkMVFURnhSMUpEZW1rMlgySkZORUpvWTBsJTJCVFc0MGQyWm5JaXdpWVc1MllXTnJJam9pV0VWaFdXOTVPRGg2ZG14bGEzVTJVbGRNUmpkR2FuQmhPVVI1YWpoQ1VFNGlmUSUzRCUzRCIsInBsdWdpbnMiOnsiaGVhbHRoQW5hbHl0aWNzIjp7fX0sImh0bWw1Ijp0cnVlLCJ0b2tlbiI6IjFlaHZLZEtWd2JzeTk5engwVzk0cHY0ZUd1QTFxR1JDemk2X2JFNEJoY0l%2BTW40d2ZnIn0%3D" width="640″ height="360″ frameborder="0″ scrolling="no" webkitallowfullscreen="" mozallowfullscreen="" allowfullscreen=""]
WASHINGTON (WFLA) – Another day, another impeachment hearing on Capitol Hill. On Wednesday, one of the most anticipated witnesses in the public hearings will face tough questions from lawmakers.
Here's the latest from the hearings (Latest updates will appear at top, all times are ET):
Laura Cooper and David Hale are expected to begin the second public impeachment hearing of the day around 5:30 p.m.
Cooper is the deputy assistant secretary at the Department of Defense. She gave closed-door testimony on Oct. 23. According to NPR, she told investigators she came to understand that Mick Mulvaney was holding up military aid for Ukraine. She added that it was "unusual" to have congressional funds suddenly halted that way.
Hale is the undersecretary of state for political affairs at the State Department. Hale gave closed-door testimony earlier in November and was asked by Republicans to appear in the public hearings.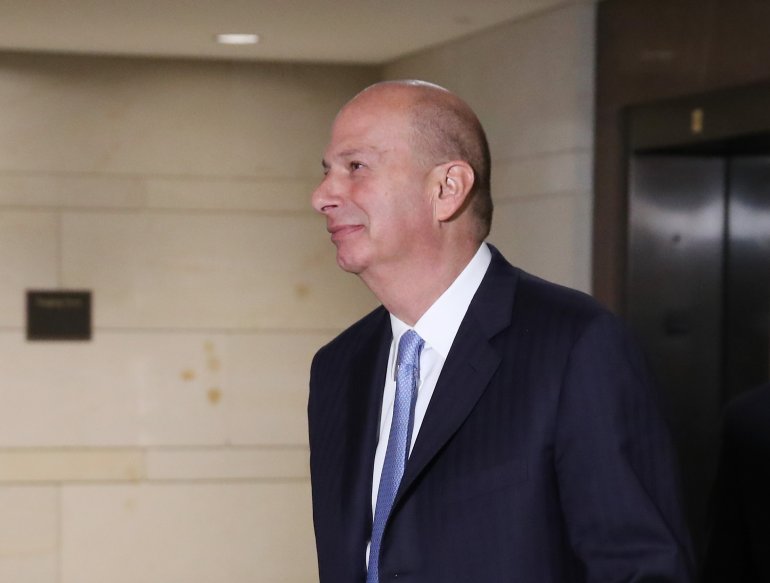 Testimony from Ambassador Sondland wrapped up just before 4 p.m., after nearly seven hours.
Rep. Sean Maloney tangled a bit with Sondland during his 5-minute turn to question the ambassador.
"Mr. Maloney, I've been very forthright," Sondland said when answering a question. "I resent what you're trying to do."
Maloney responded, pointing out this is now Sondland's "third try."
"Didn't work so well the first time, did it? We had a little declaration come in after, remember that?" Maloney said. "Now we're here a third time and we got a doozie of a statement from you. All due respect, we appreciate your candor but let's be clear about what it took to get it out of you."
Rep. Mike Quigley, during his turn, compared the whistleblower to someone who pulls a fire alarm.
"If we were investigating an arson, you all would indict the person who pulled the fire alarm," he said. "That person's job is done. We've seen the smoke. We've seen the fire."