This is an archived article and the information in the article may be outdated. Please look at the time stamp on the story to see when it was last updated.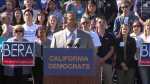 SACRAMENTO COUNTY-
Less than 200 votes.
That's what separates Representative Dan Lungren from challenger Ami Bera for California's 7th congressional district.
With 100% of the precincts reporting, Bera has 88,406 votes and Lungren has 88,222 votes.
The California Secretary of State's Office is still counting and certifying ballots, a process that could take about four weeks.
Once the Secretary of State's Office certifies the results of a race, then a recount can be requested by a candidate. A recount does not happen automatically, no matter how close the results.