This is an archived article and the information in the article may be outdated. Please look at the time stamp on the story to see when it was last updated.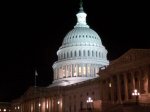 RALEIGH, North Carolina-
A new poll, that might not be all that shocking to most people, reveals that Congress still isn't very popular among Americans.
The survey, conducted and put together by Public Policy Polling, shows that almost half of those polled prefer witches to Congress. Wall Street, hipsters, hemorhoids, cockroaches, the IRS, jury duty, dog poop and zombies also all ranked above Americans' view of how the legislative branch is doing.
The sample size, however, wasn't very large at all. Only 502 registered voters were polled. Still, a whopping 86 percent said said they disapprove of the job Congress is doing. Eight percent approve and six percent said they were not sure.
But it's not all bad news for lawmakers – they have a higher approval rating than twerking, Charles Manson, heroin and the Ebola virus.
To see the complete poll, click here.