This is an archived article and the information in the article may be outdated. Please look at the time stamp on the story to see when it was last updated.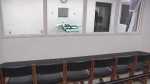 SACRAMENTO-
Californians have voted to keep the death penalty in place.
Proposition 34 would have repealed the death penalty, and commuted those currently on death row to sentences of life in prison without parole.
Election results show 53% of voters did not want to repeal the death penalty.