This is an archived article and the information in the article may be outdated. Please look at the time stamp on the story to see when it was last updated.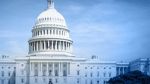 WASHINGTON, D.C. (CNN)-
A record number of women will represent their states in the new U.S. Senate, CNN projects.
Democrat Heidi Heitkamp will win the Senate race in North Dakota, CNN projects, making a total of 20 women in the 100-seat chamber come January. She will be part of the 53-seat Democrat majority, with 45 Republicans and two independents.
Elizabeth Warren will be the first woman senator to represent Massachusetts, and Mazie Hirono will be the first female U.S. senator from Hawaii and the first Asian-American woman in the Senate.
Other women who won Tuesday night were Sen. Claire McCaskill of Missouri and Tammy Baldwin, who will represent Wisconsin.