This is an archived article and the information in the article may be outdated. Please look at the time stamp on the story to see when it was last updated.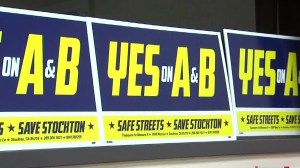 STOCKTON–
In a 52.52% to 47.48% vote, Stockton's Measure A has passed. The measure raises the city's sales tax rate up to 9%, bringing in an estimated $28 million for the city as it struggles to come out of bankruptcy.
Measure B, which will put 65% of the money raised by Measure A into public safety, also passed, winning by a 59.67% to 40.33% vote.
Turnout for the election was low, with only 21.06% of registered voters in the city casting a ballot. All precincts have reported in their numbers.