This is an archived article and the information in the article may be outdated. Please look at the time stamp on the story to see when it was last updated.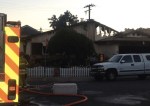 VACAVILLE –
Power lines came down in Vacaville after a house caught fire early Tuesday morning.
Firefighters said the roof collapsed at the house on Juniper Street near Dobbins Street and West Monte Vista Avenue.
PG&E arrived on the scene to work on the power lines.
No one was injured.