This is an archived article and the information in the article may be outdated. Please look at the time stamp on the story to see when it was last updated.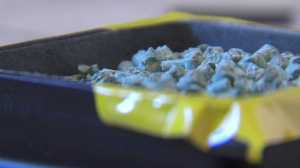 SACRAMENTO-
For a dog, nothing is sacred. They'll eat just about anything;  human food, garbage, water from the toilet, they'll even eat poison.
Veterinarians at UC Davis have seen an increase in dogs becoming ill from ingesting rat poison.
"The poison is very effective at killing rats", said Dr. Karl Jandrey.
But unfortunately, "it kills everything."
Dr. Jandrey told FOX40 that for a dog, rat poison can actually be quite flavorful. The poison is usually dyed blue and if a dog eats it, they can vomit and even leave behind blue waste.
"The poisoning causes an interruption in the ability to clot. Their symptoms are bleeding, and the bleeding can happen anywhere in their body." he said.
Dr. Jandrey also told FOX40 that he treats dogs about ten times more frequently than cats. Mostly, he says, because cats tend to pickier eaters.
If you think your pet might have ingested poison, seek medical treatment from a professional veterinarian immediately.