This is an archived article and the information in the article may be outdated. Please look at the time stamp on the story to see when it was last updated.
SACRAMENTO-
Weeks of record-breaking temperatures will slowly cool this week and could even bring rain.
That's right, rain. Precipitation is in the forecast, on multiple days. It's not a huge chance, but forecasting models by the National Weather Service shows there could be rain Tuesday, stretching into Thursday.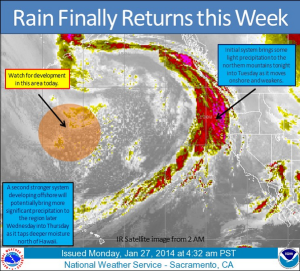 It appears the best chance for rain will be Wednesday evening, but this could change as the week goes on and the storm moves closer.
California's typically wet winter has set a new record this season for most days with no trace of precipitation. Monday marks the 51st day without measurable rain during the winter.
Sacramento and Stockton set new records Sunday for high temperatures, the latest of dozens of new records set this season.