This is an archived article and the information in the article may be outdated. Please look at the time stamp on the story to see when it was last updated.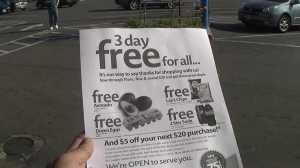 SACRAMENTO-
Raley's Supermarkets are advertising free food specials to combat the loss of customers during a worker's strike.
Newspaper and radio ads are promoting the give-a-way of a bag of groceries that include an avacado, a dozen eggs, a bag of chips and a 2 liter bottle of soda with the purchase of $20 of groceries.  In addition customers get a $5 coupon  for more free food with a $20 purchase on the next visit. The offer is good through Thursday.
The offer is billed as a reward for loyal customers.  Deb Cloninger cashed in on her free bag after making a special trip to the Raley's on Freeport Boulevard to support the company.
"I think people are loyal, I mean when it comes down to it if they receive good service I think people are loyal," said Cloninger.
But striking workers say the program is a thinly disguised effort to lure new customers to stores that are hurting for business.  They claim those who are getting the free food offer aren't loyal customers.
"They're coming in and that's all they're walking out of here with, the freebie," said picket captain Robert Barbieri.
Union officials are not above spinning the facts in the contentious strike.  They say the give-a-way is a desperate measure in which the chain is giving away items that would spoil for lack of customers anyway.
That might be true of the avacado and the eggs but it's hard to make that case for the chips or the soda. Customers can also get the offer at Bel Air stores where workers haven't walked out because they haven't taken a strike authorization vote.
Still, strikers are getting their share of support from customers who won't cross picket lines like Wilson Kirby.  He says he's been on both sides of labor disputes but is supporting the workers in this case.  He brought a sign saying he's not shopping at Raley's and carried a bag of groceries he had just purchased.
"It's from Safeway, a union shop," said Kirby.
–
"