This is an archived article and the information in the article may be outdated. Please look at the time stamp on the story to see when it was last updated.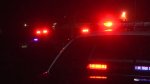 DENVER, Colorado (CNN) —
Two 15-year-olds broke into a Denver middle school armed with what appeared to be BB guns and ransacked several rooms before being taken into custody, police Chief Robert White said Tuesday.
Authorities believe the two wanted to steal items from the school, White said.
No students were in the building at the time of the late-night burglary at Rachel B. Noel Middle School, and classes were expected to go on as usual Tuesday, he said. An employee saw the students enter the school around 10 p.m. with what appeared to be rifles.
Officers surrounded the school before taking the boys into custody.
While authorities have not moved the weapons the boys were spotted carrying, investigators who looked at them think they are BB guns, White said.
One of the teens was also carrying a computer in a backpack. The other suspect's backpack has not yet been examined, he added.
The teenagers, whose identities have not been made public because they are juveniles, were being interviewed by investigators early Tuesday, White said.
"Preliminarily, the intent appeared to be burglary," White said.
White said the same pair attempted to break into Greenwood Elementary school earlier in the evening, but weren't successful.
The-CNN-Wire
™ & © 2013 Cable News Network, Inc., a Time Warner Company. All rights reserved