This is an archived article and the information in the article may be outdated. Please look at the time stamp on the story to see when it was last updated.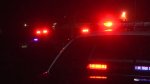 ALTURAS-
Four people are dead and two others are hurt after shots were fired Thursday afternoon at a meeting at the Cedarville Rancheria, according to media reports out of Modoc County.
The Modoc County Record reported that the meeting was about evicting people from the Rancheria when the woman opened fire.
The woman reportedly began stabbing someone when she ran out of ammunition. She has since been taken into custody, the Modoc County Record reported.
Stay with FOX40 and FOX40.com for the latest information as soon as it becomes available.