This is an archived article and the information in the article may be outdated. Please look at the time stamp on the story to see when it was last updated.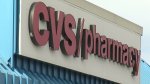 Employees at one of the nation's largest drugstore chains must disclose personal health information — including their weight — or pay a $600-a-year fine, according to a published report.
CVS Caremark Corp. is requiring workers to reveal the information to their company's insurance carrier or pay an extra $50 a month for health coverage, according to the Boston Herald.
CVS could not immediately be reached for comment. But a spokesman told the newspaper that "our benefits program is evolving to help our colleagues take more responsibility for improving their health and managing health-associated costs."
Employees must reveal their weight, height, body fat and blood pressure, the paper reported.
For more on this story, including a statement about the controversy from CVS, click here.