This is an archived article and the information in the article may be outdated. Please look at the time stamp on the story to see when it was last updated.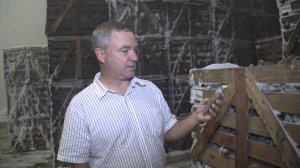 RIO VISTA-
California Endive Farms is using a PG&E program to reduce its energy bill during the current heat wave.
Endive is a green, leafy vegetable, but this farm grows a smaller cousin that is the secondary growth of a chicory root which is spelled the same, but pronounced 'ahn-deev.'
The root is harvested and stored in a warehouse at 30 degrees.  But the warehouse used a new design that features concrete sandwiched around 14 inches of foam.  That allows  operators to shut the electricity off from noon to 6 p.m. when the cost of electricity is at its highest.  They turn the electricity back on at night.
"It's been a dream come true. We lose just a degree or a degree and a half during the six-hour period," said grower Rich Collins.
The budding roots are eventually taken to a warmer growing room where it matures in 4 weeks in the dark.
PG&E's Demand Response Program also notifies business customers ahead of time when electricity will be scarce so they can reduce usage for credit on their bill later.
"That allows us to conserve energy and save a little cash," said maintenance manager Joe Jackson.
A little cash is relative.  The operation is saving up to $7,000 a month with the new warehouse and the PG&E program which is especially helpful during a heat wave.
For tips on how to save money and energy from PG&E, click here.