This is an archived article and the information in the article may be outdated. Please look at the time stamp on the story to see when it was last updated.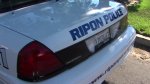 RIPON-
Police in Ripon say that as the temperatures drop, it's a bad idea to leave your car unattended while it warms up.
Officers cite a stolen car case from January, when a man reportedly stole a car outside a hotel while its owner left it running. Police say one of their officers witnessed the alleged theft and arrested the driver.
The car was apparently already stopped when the woman reported it stolen.
Calling car thieves "opportunistic," Ripon Police spokesperson Steve Merchant said it's best to stay with your car while it warms up.