This is an archived article and the information in the article may be outdated. Please look at the time stamp on the story to see when it was last updated.
FORT WORTH, Texas (KDAF) –
A Fort Worth grandma was robbed and beaten in broad daylight while onlookers recorded the incident with cell phones.
"This woman comes up and she said I want your purse, and I said 'No!'" Inga Evans recalled.
It didn't stop there. It all happened Friday at the Walmart on Berry Street. The mugger was persistent, but Evans put up a fight.
"She kept hitting me with both fists and worked me over pretty good until she knocked me down; and as she knocked me down on the concrete, I let go of the purse."
Sgt. Ray Bush with Fort Worth Police Department said, "Her purse was taken. It was determined later that it was used at some area businesses."
The victim said the mugger tried to use her credit card at a nearby McDonald's. Police are now looking for the person who did this.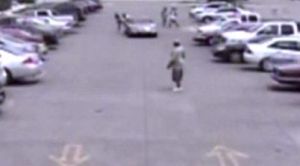 "We're looking for a tan or beige mid-90's Ford Thunderbird," Sgt. Bush said.
Evans remembered what the woman looked like. "She had black kind of curly hair with a little bandana around her mouth. I see her face all the time. I just want it to go away."
But wait, it gets worse.
Shoppers just stood around and watched. It's all on video.
"Nobody helped," Evans said. "They all just had their cell phones going. Just shooting. What goes around comes around, and one of these days they're going to know what it feels like."
Police and the victim are warning folks to be aware of their surroundings.
"Especially women, and if you're elderly, don't go anywhere by yourself," Evans said.
"It is really tough to hear about anybody being assaulted, especially someone in their 70's," Sgt. Bush added. "It's just really sad."
"If they don't catch her, I won't be the last. They took my peace of mind," Evans said.